Accommodation
We pride ourselves on personally seeking out accommodation bursting with character and style. We look for hotels that provide a direct experience of India's magical history and culture and that are as breathtaking as the roads you will journey on.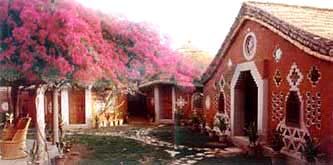 We avoid the large impersonal, sanitised chains - why go to India and stay in a hotel that could be anywhere in the world? Indeed many of our hotels are boutique, heritage, often family run and steeped in history. We also like variety, and see the hotels as a way of directly experiencing India's cultural and architectural richness. Many of the hotels we choose have pools and spas and all offer excellent local cuisine so you can fully unwind after a hard day's adventuring and return home both rested and inspired. However, even four or five star accommodation in India differs in standard from what you may expect from hotels in the West. The odd power-cut, lack of TV in your room, erratic water pressure in your shower and rather slow style of service (for example), can all be part and parcel of the Indian experience! Also, if you have chosen one of our more off-the-beaten-track tours there may be the odd night where it is necessary to stay in a more basic style of accommodation. Whilst it may be less sophisticated than other hotels, it will always be what we consider to be the best accommodation available in the area.
Food and Drink
We anticipate that India's varied and delicious cuisine will be one of the highlights of your trip. It certainly is for us! The hotels we choose offer wonderful local dishes (several have their own organic farms providing wonderfully fresh produce), and have good hygiene standards. Your tour price includes all your meals. You can expect to choose between either an Indian breakfast or a continental option of bread, eggs and fruit. Lunch will often be a lighter meal (the bikers will eat at cafes on the road or a packed lunch can be provided) and dinner is a more sumptuous affair - often a buffet of local delicacies. Many of the tours will include a chance to eat with a local family - where you will directly experience Indian family life and home-cooked food. If you are not a fan of spicy food then don't worry, less spicy dishes can be prepared just for you or there is nearly always a western alternative on the menu. India caters well for those who are gluten intolerant (rice and lentils being their staples) and of course it is a vegetarian's paradise! Indeed many hotels only serve vegetarian food. For those real foodies amongst you cookery classes can be arranged in several of our destinations.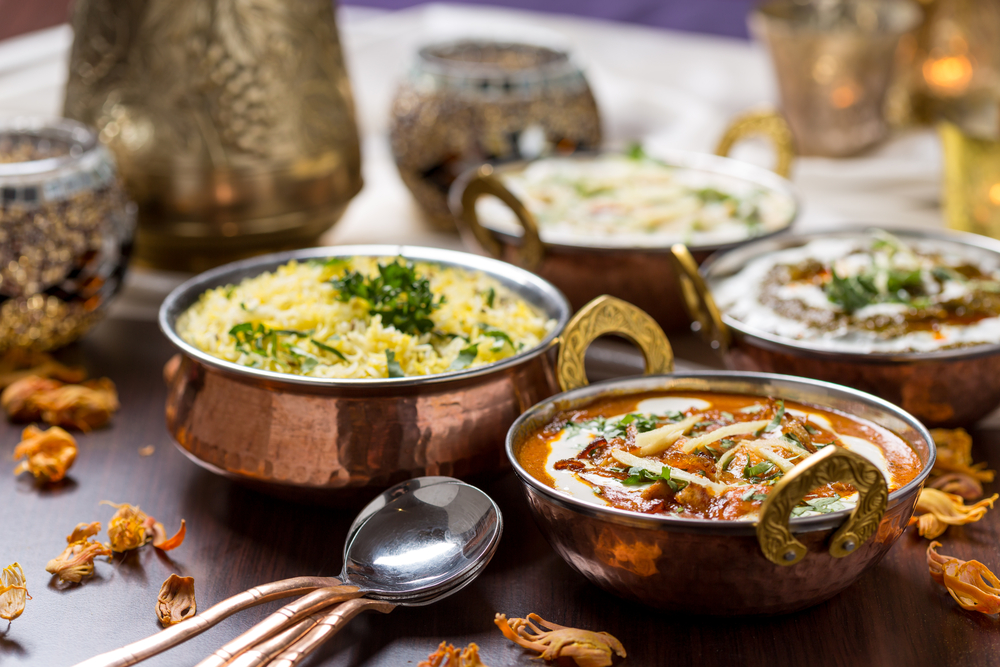 We always recommend drinking bottled or filtered water (we highly recommend buying a "water-to-go bottle" which completely purifies tap water and cuts down on plastic). Lassis are a delicious Indian curd-based drink which are excellent for the digestion and of course the infamous Indian chai (milky, sweet and spiced) is available everywhere.
Alcohol will be available in most hotels (please note that wine in India is relatively expensive and not the greatest tasting!) - however, some hotels may refuse to serve you alcohol on religious grounds or simply because their establishment does not have a license. The Glorious Adventure Company always respects the customs of local culture and religion and would urge you to do so.
Keeping Healthy
People often worry that they will be struck by the dreaded "Delhi belly" whilst in India. Whilst we are pleased to say that we have a great track record regarding the health of our clients (largely due to the good hygiene standards of the hotels we choose), we do advise you to take on board the following simple suggestions to maximise your chances of keeping healthy:
Wash hands thoroughly and/or use antibiotic wet-wipes on your hands before eating

Always drink bottled water and check that the seal on the bottles you buy are intact

Stick to a vegetarian diet (though the fresh sea-food in Goa is not to be missed!)

Avoid ice in drinks (unless it is made from filtered water)

Check salads have been washed in sterilised water

Check that food in buffets is freshly cooked and still piping hot

Take probiotics before your trip

Drink lemon juice in water and lassi (curd drink) each day during your journey (both excellent for the health of your stomach)

Eat only freshly cooked food

In the case of any ill-health advise your tour leader immediately: an early prognosis often rapidly aids your recovery to health and most hotels can call a doctor directly to your room within a couple of hours

Please ensure you bring a well equipped first aid kit which includes rehydration salts
Please note that in the unlikely event that sickness makes it impossible for you to travel on the next leg of your journey (even in the support vehicle or minibus), it is our policy to continue with the itinerary whenever possible. We will always make sure that you are looked after and that you receive excellent care. If the medical team think it unwise to travel we will make arrangements for you to stay at either the hotel/hospital accompanied by either a team member, or local regional guide. When you are well enough to travel we will arrange transport for you accordingly. It is essential that you have a personal insurance policy to cover this eventuality.
Vaccinations
India is large, and one area may differ from the next regarding inoculations. For this reason we recommend that you consult your local GP and take advice. Whilst we recommend a chat with your local GP, you can also find a good source of information at 'fitfortravel.scot.nhs.uk'. It is vital that you ensure you have all the appropriate jabs required and have taken out a personal medical insurance appropriate for your trip. If you have any queries on this matter don't hesitate to get in touch with us.
Insurance
All participants on Motorcycle tours MUST have adequate personal health and medical insurance. There is some choice here and several underwriters can provide suitable products. Most basic everyday travel policies offer cover for use of small scooters and motorcycles (up to 125cc) only as standard. These type of policies do not tend to cover organised motorcycle tours such as ours - so be warned! So when you are investigating, make sure that you specify that you are on an actual Motorcycle tour and a bolt-on cover can then be provided if required.
In our experience we have found that Trailfinders offer an informative and well priced service. We therefore recommend them as a starting point. Inca, our reliable contact can be reached on 01865 261000 extension 6240. Also available here at -
http://www.trailfinders.com/insurance
Single and Multi trip packages are available. As of Summer 2015, Trailfinders provide a single trip package giving cover for a person up to the age of sixty five at approximately sixty five British Pounds (£65). A bolt on premium of 50% is usually added for motorcycle tours.
There are generally three age categories -
up to 65 years
66-70 years (twice the price)
71 to 75 years (three times the price)
and 76 years and above (calculated on a individual basis)
Money
You may be wondering how much money you will need to take and in what form. Our tour costs include all accommodation, two meals a day, all transport, much of your sightseeing and all motorcycle costs where applicable. We do not, however, cover the costs of alcohol and other beverages. So the amount of money that you decide to bring depends on your appetite for Kingfisher beer and chai! Beer and wine prices are relatively expensive by Indian standards. A beer may range from £1.00 to £3.00 whereas a cup of tea might cost 50p but more often than not 10p. There are many beautiful things to buy in India (fabrics, jewellery, carpets, clothes etc) and cash is king. Most people spend between £100 and £400 depending on their appetite for shopping!
Cash points are generally available in most towns with the limit being £100 each withdrawal. We suggest taking around £100 in English money with you. The Indians love £50 notes and you generally get a better exchange rate if you have these in your wallet. Your tour guide will get you the best exchange rate possible. Travellers' cheques are pretty redundant these days. A credit card is best, failing that any Visa debit card. We also advise you to inform your bank if you plan to use your debit card in India.
Tipping is very common and as a rule we advise you to tip when the service is good - which it often is in India! The gesture is always well received and appreciated as wages in the service industry in India are generally very low. One is not expected to tip for basic goods - tea or coffee. Your Tour Leader will advise should you feel pressurised or unsure of what to pay at any point.
Another question that people often have regarding money is whether to give to beggars. This is a very personal choice. There is no right or wrong here but as a rule we generally suggest that you resist this urge and instead donate to a worthy charitable cause. There are several charities which we work with closely and can recommend to you. Many people bring pens and school books or buy fruit and nuts to hand out. This is a great substitute for just handing over money.
Indian Visa
You will need a 6 month tourist visa to visit india or the new 60 day e-visa. The application process can be simplified somewhat by using a third party rather than the Indian embassy application portal. We can highly recommend a company called Visa Genie (visagenie.com). They take responsibility for completing the embassy questionnaire on your behalf from the information that you give them. It costs a little extra but is generally a pain free and quick way of obtaining the necessary paperwork. Whilst Visa Genie may guarantee a quick turnaround for all applications we recommend that any application is started at least six weeks prior to departure. Remember that all visa applications require an "up to date" passport. Please note that the photo required for an India visa is slightly bigger than your average passport photo. Many places now issue Indian visa sized photos. It is also necessary that you have at least 6 months validity remaining on your passport.
For more information about the new one month e-visa please follow the link below -
https://indianvisaonline.gov.in/visa/tvoa.html
Booking your flights
The Glorious Adventure Company does not book flights for its clients. We do however research, reserve and advise accordingly. There are quite a few airlines flying to and from India including Jet Airways, Air India, British Airlines, Virgin etc. The website www.opodo.co.uk is a good way to check the price for available flights with dates. We do however recommend that one books the actual flight over the phone once the required level of research has been carried out. A phone call to Trailfinders is a safe and easy way to secure the flight (Trailfinders: 020 7938 3939). We will always have preferred flight that we suggest for each tour. This allows a group to arrive together which makes our airport pick up simple and means that you can all meet one another from the moment you arrive on Indian soil. The flights we suggest will wherever possible be a direct flight with good timings for both departure and arrival. If, however, you would rather choose another airline or perhaps arrive a day earlier or leave a day later then we can always accommodate you. We can also arrange your onward travel plans.
Support Staff
You will be accompanied by a full support team and support vehicle on each tour. Sanjay our driver, and Anil and Saddam our mechanics will be with us at all times. Your support vehicle contains a first aid kit and your tour leader will be first aid trained. We recommend at least one year's riding experience before hitting the Indian roads and of course a full UK motorcycle license is imperative if you want to ride an Enfield Bullet. Whilst the roads we select are relatively well surfaced and quiet by Indian standards, there will be patches of rougher terrain and a bad monsoon can affect road surfaces. Please ensure you are confident to ride in these conditions.
Riding Formation in a group
In Europe it is sometimes good practice to ride in staggered formation i.e. offset from immediate bike in front and behind. This has advantages in braking and visibility and can give benefits on clear, well-surfaced European roads. Unfortunately this does not always work in India quite as well!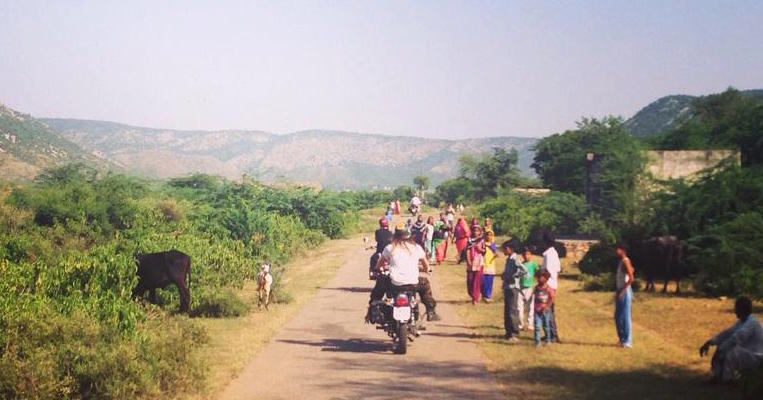 The nature of Indian road surfaces, drivers, pedestrians and wildlife make it very difficult to keep a relative static road position. One tends to weedle around a little and this can be a little unpredictable. We suggest that one focuses on the rider immediately in front. Keeping a keen eye on the path and line of the rider in front can be a useful tool. He/she often signals to the immediate rider behind when difficulties arise - a pothole/elephant/camel poo etc. This information is passed on from front to back through gesture and action and is pretty intuitive.
Marker System
Here at the Glorious Adventure Company we have devised a simple marker system that works well in India. Your Tour Leader will sit down with the entire group and discuss how this works on Day One. It is very simple and ensures that we don't lose anyone en route! Essentially we keep the Tour Leader (or an appointed rider) in pole position. At the rear of the group we position our mechanic on the spare bike followed by the support vehicle. We maintain this position at all times. As we approach a junction the rider immediately behind the Leader will slow up and stop and mark that position indicating to the remaining riders in which direction to travel. The rest of the pack will in turn pass this position allowing the marked rider to re-join the pack as the mechanic and support vehicle approaches. This ensures that the relative position of each rider changes throughout the day. This procedure and other information regarding Indian road etiquette will be discussed in some detail at the start of each tour.
Motorcycle Breakdowns
This can happen from time to time. Whilst the Bullets are sturdy and robust they can, like the rest of us, become tired. If you should break down, stay with your vehicle. Although we ride gently it is quite possible that the distance between first and last position can be a kilometre or so. This can make communication difficult. We have subsequently developed a proven system that ensures no-one is left stranded for any length of time.
As a rider in a group, use your mirrors to keep an eye on your rider immediately behind you. If you lose sight, slow down or pull over. Should a rider in the group have a mechanical problem and stop, eventually the entire group behind this rider will naturally catch up.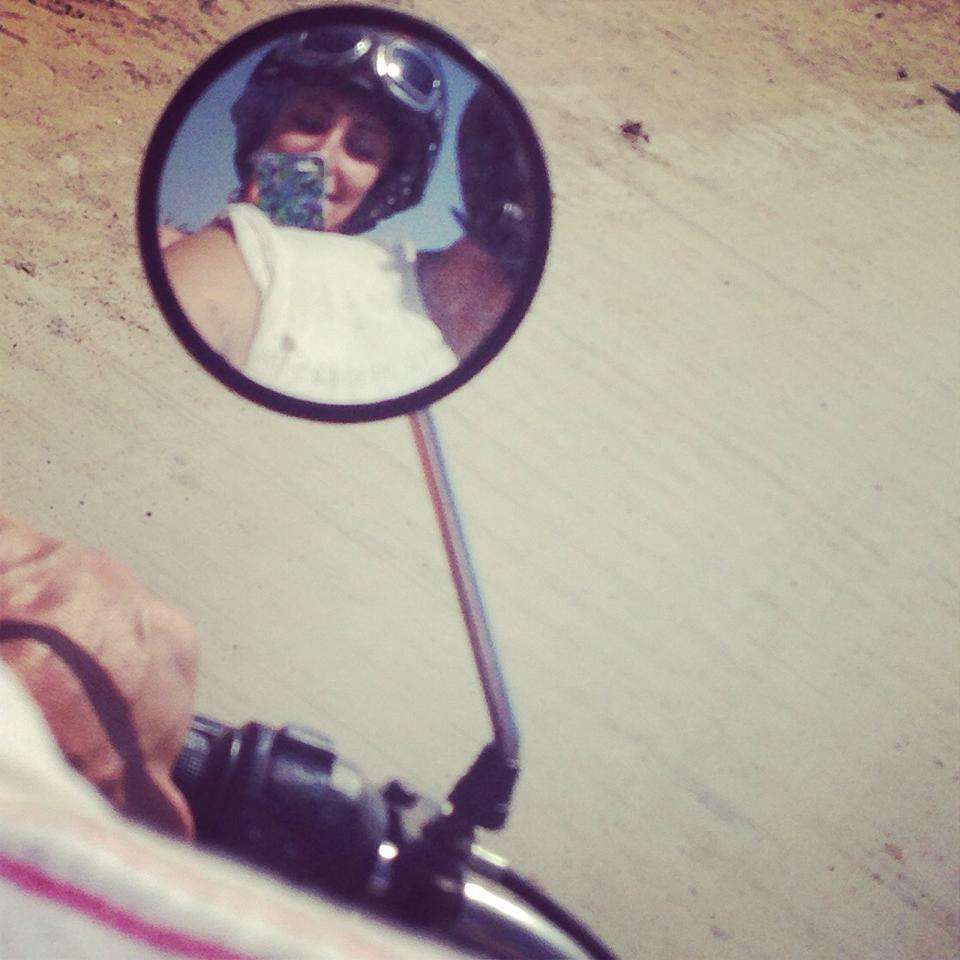 The rider immediately in front of the said rider will also stop after some time. Eventually the whole group will, by this process, come to a halt. When the tour leader loses sight of his immediate biker in the rear mirror he will pull over and after a short period of time peel off and retrace the route. It is a mistake for someone in the group to head off in an attempt to get the attention of the person riding in pole position. This will simply send a message that all is well and the tour leader might carry on in ignorance and in some cases even accelerate! If you do break down our mechanic has an arsenal of spare parts and often a spare bike so you are in good hands. Clutch changes, piston and barrel exchanges, gearbox rebuilds etc have not phased our team as of yet!
GPS devices are carried by the tour leader (at the front of the riding group) and by the support staff in the jeep (at the rear of the group). Each GPS has instant access to all emergency services and all the local regional hospital details. If an ambulance is required, the national Ambulance telephone number is 108. The local police (100) are often informed automatically and will invariably arrive at the scene shortly after the ambulance arrives. Your Tour Leaders are competent persons and each has completed the Professional Riders First Aid Course.
To ensure your safety on Indian roads we suggest the following -
- All riders wear helmets at all times when riding
- You wear fully protective light-weight gear including sturdy boots
- You have at least one year's riding experience
- You always follow the riding rules set out by your tour leader and never race off alone
What gear should I bring?
One can buy pretty much anything in India - but it can take time! Most of our tours are set in rural settings and finding a quality, good fitting helmet for example can be tricky! We therefore recommend that you bring the following:-
Good quality helmet

Goggles or sunglasses

Lightweight yet protective motorcycle clothing (including gloves, jacket, trousers and boots)

Tank bag (useful but not essential).
What to wear and what to pack
When you book onto a tour you will be given a full information pack about what the climate will be like throughout your tour and how to pack accordingly. You will also be advised whether you need a mosquito net and the likelihood of rain, extreme cold etc.
Many of our tours run between the Indian cool dry season and the build up of the hot dry season (pre-monsoon). It is usually a very pleasant time of year to travel India - around 30 degrees in the days and mild in the evenings, however as it is between seasons it can sometimes climb much higher than this and sometimes dip a little lower so please bring clothing to cover these scenarios. Rain can occur at any time in India, though is very unlikely between October and May. There is nearly always the risk of mosquitoes and bugs so please ensure you bring repellent.
We suggest you travel light. There will be a multitude of lovely clothes for sale en route if you are caught short and all hotels will provide a cheap and efficient laundry service. In fact you may well come home with your clothes cleaner than when you left! Have your name on your bag clearly marked – this will help the hotels deliver the right bags to the right rooms. It is best to bring a larger suitcase and a smaller daypack.
Though Indian society is slowly modernising (especially in the cities), it is still very conservative and traditional by western standards. As a female travelling in India it is advisable to keep your shoulders and legs covered especially in rural, less travelled areas. It is well received if you keep well covered and even wear traditional Indian clothing, which is both cool and comfortable. You will also need to bring a head scarf for wearing in temples. The dress code is generally casual and comfortable though you may want to bring something smarter to wear for dinner. Of course once you are within the hotel, by the pool it is acceptable to wear swimwear. There will be more information on local customs and traditions in the information pack you will receive upon booking.
Essential Items
Water filter – this will not only save on money but cut down on plastic

Tampons – whilst sanitary pads are fairly widely available, tampons are not

Herbal tea bags – not available in India!

Pens/stationary or sweets for children if you want to give – better than money

Insect Repellant – it is not the mosquito season when we are there on account of it being relatively cool but there will be mosquitoes in the more rural locations. Mosquito nets may be required on some tours

Hand Sanitiser – useful on train or car journeys where running water may not be available

Torch – power cuts are not uncommon

First aid kit – including diocalm and rehydration salts

Indian fitting plug adaptor (can also be purchased in India and probably in the airport)

Small padlock for your bag whilst travelling on the train

Sun cream

Ear plugs (India can be noisy!)

Hat/head covering/shawl for ladies whilst visiting temples
Pre-Travel Preparations
Before departing for India please make sure you have the following in place:
Indian Tourist Visa
Appropriate vaccinations Appropriate insurance Motorcycle driving licence and International Bike Licence (available through Major Post Offices at a cost of £5.00)
Flights which tie in with the tour dates
Passport valid for at least six months from date of departure
Recommended Reading
Gordon G.May - Overland to India
Lonely Planet - India
The Rough Guide to India
Shantaram - Gregory David Roberts
City of Joy - Dominique Lapierre
The God of Small Things - Arundhati Roy
Midnight's Children - Salman Rushdie
India – Patrick French
Karma Cola – Gita Metha
The City of Djinns - William Dalrymple
Nine Lives – William Dalrymple