Udaipur 1200
Packed full of adventure, our journey will take us through sleepy villages, bustling towns, farmland and wildlife sanctuaries. As well as including the classic sights of Udaipur, we will take you off the beaten track to explore the ancient temples of Ranakpur, the Nature Reserves of Sariska and Ranthambore, the colourful town of Bundi and the villages of the Dhadikar valley. This tour is a fascinating insight into North India and we cover about 1200 Kilometres. Our time together ends in Udaipur from where we catch an internal flight back to Delhi ready for your flight home.
Northern Rajasthan, famous for its lakes, palaces and golden desert, is the backdrop to this motorcycle tour. Otherwise known as 'the land of the kings', Rajasthan is rich in history and one of India's biggest states. Whethor you choose self drive 4 * 4 jeeps or motorcycle , we weave a path through stunning countryside. Our tour stretches from the remote villages in the east (Dadhikar valley) to the romantic city of Udaipur in the south. Often referred to as the 'Venice of the East', Udaipur is one of Rajasthan's highlights - resplendent with its lakes, palaces and museums. We also visit Chittorgarh and colourful Bundi before reaching Sawai Madhopiur.
Our Udaipur 1200 tour boasts truly magnificent hotels, amongst them some of the finest heritage hotels in Rajasthan. The roads are epic and hand picked. Our support team is near at hand at all times and your support family will accompany you on each stage of your amazing journey.
WHAT AN EXPERIENCE!!
....just ridden 160km in Rajasthan! Mind blowing!! Supping a G & T after washing the road grime off in the outside jacuzzi at samode Bagh.......
Matt Morgan, Banbury UK October 2014
Udaipur 1200 - Highlights
stay at truly unique heritage Palaces and Forts
visiting the villages and schools of rural Aflwar
journeying through the stunning rural Rajasthan
visit the 1930s art deco Palace in Karauli - dine with the Royal Family!
boating on lake Picola,Udaipur
visit magical Bundi
exploring the sights and sounds of Delhi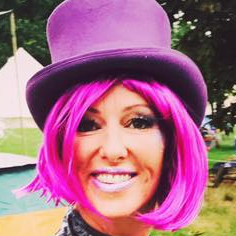 UDAIPUR 1200 - COSTS & STUFF
Rider Price £2950 Pillion Price £2150 Minibus £2150
WHATS INCLUDED
European Tour Leaders - Miss Jazz Koko and Peter George Rowe
Support from local guides
Airport transfers to and from Delhi
All accommodation
All meals - breakfast and dinner
Motorcycle hire, fuel, spares and skilled mechanics
Support vehicle and Minibus
Guided tours of Udaipur and Delhi
Aravelli Valley village tour and charity school visit
Classical music and dance concert in Udaipur
WHATS NOT INCLUDED
International Flights
A tourist Visa to cover your time in India (as of 1st September 2015, a 60 day tourist visa is £60)
Insurance Policy (Health and Medical) that covers you to ride on a Motorcycle Tour - see FAQs and Terms & Conditions
Adequate Motorcycle Clothing and Helmet - see FAQs and Terms & Conditions
All drinks including alcohol
Route Planner - Udaipur 1500 - CLICK HERE TO VIEW MAP
Delhi - Alwar - Samode - Deogargh - Udaipur - Bassi Fort - Bundi - Sawai Madopur - Bharatpur - Delhi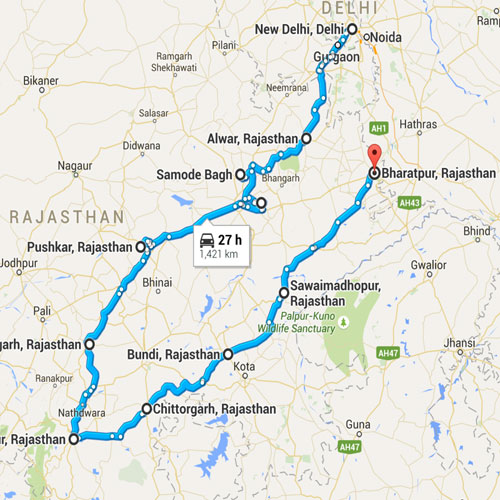 Day 1MEET & GREET AT INDIRA GHANDI INTERNATIONAL AIRPORT - As always your tour leader will be waiting for you as you land - CLICK TO READ ON!
You are met at Delhi's international airport and transferred by taxi to our first hotel in the heart of old Delhi. We stay in the bustling Paharganj district a stone's throw away from Karol Bagh (motorcycle quarter) which we explore. Enjoy the bustling markets of Old Delhi before a roof-top dinner at Metropolis.
Day 2WE LEAVE DELHI FOR THE BEAUTY OF RAJASTHAN - We jump into our minibus and head...
...to the majestic Dhadikar Fort, Alwar: a four hour drive from Delhi. We arrive for lunch and after some time to rest and shower, you will become acquainted with your motorcycles and meet the support team as well as our local expert and naturalist Niranjan Singh (Ninja) who will be your guide during your time at Dhadikar. You have your first experience riding your motorcycle to the nearby village of Dhadikar where you will have chai and snacks at the potter's house. The first day ends with a dinner and local music on the terrace.
The Dhadikar Fort is located in the heart of the Rajasthani countryside, 20 minutes from the bustling city of Alwar and 40 minutes from the Sariska nature reserve. This beautifully restored heritage hotel is set in a 13th century fort. Its stunning location high above the Aravelli Hills affords panoramic views of the rural Rajasthani countryside and the forested valley beneath. The hotel is noted for its excellent organic cuisine and rustic interiors. It will make a perfect location to rest and unwind after your flight and offer a charming and comfortable base from which to explore this fascinating region. Treatments are available in the small Ayurvedic spa.
Day 3PEACOCKS & BIRDSONG, WHAT A WAY TO START THE DAY - waking up in the Dadhikar Valley...
... is something to savour! After breakfast we head west out of the valley to just north of Jaipur (160km). Today's journey skirts the Sariska National Park, taking us on some beautiful rural roads abundant with wildlife and colourful villages. We take a leisurely pace, with plenty of chai stops. We arrive at the idyllic Samode Bagh hotel mid afternoon where you may chose to relax by the pool, potter about on your Bullet, or wander the hotel's beautiful grounds. Day 3 will end with a tour of the nearby palace and then a dinner in the palace garden.
Accommodation: Samode Bagh. This beautiful boutique hotel is an oasis of hospitality and luxury close to the hustle and bustle of Jaipur. Leafy courtyards, fountains, whitewashed interiors, pools and gardens create the impression you are staying in a traditional Rajasthani Palace. The Samode Bagh prides itself on its environmental policies. It runs a farm which produces much of the hotel's organic food.
Day 4SAMODE TO PUSHKAR - Our fourth day demands a little more from us - 200km to be precise! We take an early start as we dodge and ...
...weave cross-country heading to Pushkar. Away by 8am we take well surfaced, smaller roads through the villages of Chorum and Renwal before heading south to Jobner, Phulera and Naraina. We hit Dudu before the last short scenic ride to the holy town of Pushkar. Pushkar is considered deeply sacred to the Hindus and has been drawing pilgrims and travellers to its holy lake and temples and colourful bazaar for hundreds of years. We have two nights here after this relatively long ride. Our hotel is the magical Seventh Heaven, a 200 year old haveli. We arrive in time for a walk through Pushkar's bustling market to its holy lake. Dinner is at a local family's house - hosted by Carrie and Pete's good friends Polly and Tolly Parasher and their lovely children. (220km)
Day 5HEAD SOUTH TO DEOGARH - We depart early on Day 5 to reach ...
... Deogarh by midday (120km). Today's journey will take us from Pushkar directly south into the more fertile plains of central Rajasthan. Heading south we take the NH8 road towards Deogarh. We cover some ground on the highway before exiting the main road to pick up a spellbinding backroad at Behroot. We weave through glorious scenes of rural Rajasthani life before rejoining the main road at Bhim. The Deogarh Mahal hotel is a rambling palace, now converted into a beautiful luxury hotel complete with a flower shaped pool and spa. After lunch in the hotel gardens you will have the remainder of the day to relax by the fabulous pool or explore the local environs. Jeep safaris into the countryside can be arranged or the immediate town is a peaceful place to take a stroll and buy local crafts. There is also a lovely Ayurvedic centre where treatments are available. Dinner will be served on the roof terrace which affords views of the local town and surrounding palace.
Accommodation: Deogarh Mahal. Literally translated as "abode of the Gods", this luxurious 15th century converted palace is steeped in history. There is a spa, a lotus shaped pool, several terraces offering splendid views where you can relax, a fabulous Art Deco bar and nightly music and dancing before dinner. The hotel also runs its own organic farm which produces most of the hotel's produce. Dinner is usually served on the roof terrace and is sumptuous and candle-lit.
Day 6 UDAIPUR HERE WE COME - Once again we ...
... take beautiful back roads through the villages of Amet, Rajsamand lake, Nathdwawa, Mavli, Nandrel and Dabok. We reach the city of Udaipur by mid-afternoon. The day's riding is wonderfully relaxed. We check into the Mahendra Prakash hotel in time for a swim and dinner at the fabulous lake-side Ambrai restaurant.
Day 7A DAY OFF IN UDAIPUR - enjoy a ...
... guided tour of the stunning City Palace. In your free time you will be spoilt for choice - you can hire pedalos and relax on Lake Picola, wander the many shops, boutiques and emporiums in the main bazaar or take a sunset trip to the surrounding mountains and Monsoon Palace. For those itching to stay in the saddle, the surrounding lakes and hills make perfect biking territory. We end our second night here with a classical music and dance concert in the old city.
Day 8 UDAIPUR TO CHITTOR - Heading east to Bassi Fort Palace ...
... a quirky, family run hotel well known for its warm welcome and tasty organic food. We take the NH76 initially before picking up the SH79 to Chittor followed by the SH76 to Bassi arriving in time for a dip in the splendid pool or a walk into the local village before a buffet dinner. (156km)
Day 9CHITTOR TO BHUNDI - We continue east staying on ...
... the tranquil NH27 for most of the ride. Bundi is an ancient and bustling town with a marvellous palace and fort perched above its colourful market. We spend the night at the Bundi Mahal - a beautifully restored havelli on the edge of the town. Still largely off the main tourist trail - Bundi is well known for its laid back atmosphere, warm welcome and typical Rajasthani painted havellis. Family dinner at our friends' house. (145km)
Day 10BHUNDI TO SAWAI MADHOPUR - The home to the Ranthambore National Park where we ...
... hope to see the elusive Indian tiger. An easy ride that allows us to take a jeep safari at the Ranthambore National Park in the afternoon (120km), we stay at the charming government forest lodge where tigers can often be heard in the nearby forests.
Day 11SAWAI MADHOPUR TO BHARATPUR - Another stunning ride north ...
... to the small town of Bharatpur, which is world famous for its bird sanctuary. Our hotel - The Birders' Inn - has a pleasant garden filled with fruit trees, a pool and a wonderful restaurant. For those who want to explore the natural wonders nearby, The Birder's Inn is the perfect perch, located a mere stone's throw from the entrance to the park. We arrive early afternoon, in time for a guided tour of the bird sanctuary. The day ends with a sumptuous buffet dinner.
Birder's Inn acts as a base for our two planned excursions - the ghostly deserted town of Fatepur Sikri and the magnificent Taj Mahal. (189Km)
Day 12MARVEL AT THE TAJ MAHAL - A trip to India is ...
... not complete until one has witnessed the sheer beauty of this iconic building. Today we ditch the bikes and jump onboard the minibus. We head to Agra (50Km) and have a guided tour with our friend and tour guide Monica. We stop off at the desterted town of Fatepur Sikri on our way back to Birders Inn.
Day 13BACK FULL CIRCLE TO DELHI - This time we jump in our minibus after ...
... saying 'good bye' to our Bullets. We stay in the bustling Paharganj district. If time allows it we head to Karol Bagh - the area where all our petrol head friends hang out! You will meet Arun our motorcycle partner and his mates. We will also meet up again with Sanjay, Anil and Saddam.
The Royal Enfield has an exclusive street dedicated for it in the Karol Bagh Bike Market. Here you can find not only the rarest of spare parts, but can also get immense services and second hand Bullets at some incredible rates. The reason why bike lovers keep flocking to this place in large numbers is the quality of the products available at affordable rates. This is probably the only area in the country where at least 50 shops are lined up to meet the requirements of the bike and Bullet lovers. Some of the classic vintage models too are restored to perfection in this bike market. We enjoy a final dinner and a beer or two at the hotel's roof-top restaurant.
Day 14HOMEWARD BOUND - Your tour leader...
... gets you back to the airport in plenty of time for your flight home. Your time in India has come to an end but the memories will last a lifetime.
back to top